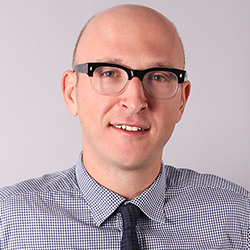 Vladimir Djurovic
See the current issue
of The Internationalist magazine
Find out how to sponsor an issue of Trendsetters
Trendsetters: Are Platform Brands the Future of Branding? Asks Labbrand's Vladimir Djurovic
Vladimir Djurovic has helped more than 100 brands understand and adapt to the Chinese market since he founded Labbrand over a decade ago. As 2017 ended, he thought about branding in today's Platform Economy as businesses like Google, Amazon, Facebook, Uber and Didi (the company that acquired the Uber brand in China) create digital structures that enable a range of human activities. He wondered about the brand positioning themes of these increasingly ubiquitous organizations and how their experiences may apply to/benefit other companies.

"Platforms," he says, "are a new type of firm that use both artificial intelligence and crowd sourcing to advantage." More importantly, Vladimir Djurovic believes that platforms are establishing new subcultures for businesses. Given his experience in China with several leading platform brands, he has identified 4 subcultures that are key to the development of today's platform economy. He invites brands to see if these ideas can be leveraged for their strategies in the coming year.

1. The Guide Subculture

Here, the platform acts as a guide, or even as a "commander." Google's search engine is the epitome of this subculture. From the first letter typed, Google shows a limited set of possible directions suggested by its big data.

In other words, the platform brand exerts control over users to follow established rules and steps. It becomes a functional tool and our habitual search engine in life. Indeed, it is the synonym for search and reliability.

In fact, this subculture has been so well established that competitors such as Chinese Baidu and Microsoft Bing still feel compelled to follow the routes and user experience set by Google, as users feel awkward when they see something different from the standard to which they've become accustomed.

Guiding interface platform brands are now going beyond an emphasis on benefits brought about by functionality. Recently, China's Tmall launched its new brand strategy, shifting its positioning from a ubiquitous shopping platform – "Tmall Is Enough"– to the pursuit of an ideal lifestyle for different customer segments: "Ideal Life, Go to Tmall." By incorporating deep consumer understanding and insights, instead of directly selling products based on isolated functional needs, Tmall created a new set of rules for guiding activities around the platform.

Platform brands that are a step ahead communicate a sense of belonging by presetting consumer archetypes to lead users on planned routes throughout the platform.

2. The Stimulation Subculture

Most UGC-based (User-Generated Content) platform brands are built on a stimulation ideology. Facebook, for example, encourages participation from users and presents itself as a space where others can interact. It allows developers to produce apps, companies to create pages, and users to share information in a way that brings even more adoption, as long as they follow some fixed – yet generative – politics set by the platform brand.

The platform brand acts as a moderator, providing stimuli and tools that consistently encourage participant creation and production, as well as sharing and communication.

Chinese Douban, with its brand positioning of "Our Spiritual Corner" creates spiritual belonging for different people that share a similar interest in a particular movie, music, book, DIY activity, hobby, etc., and provides stimulation for participation in everything from photography and travel to buying and selling goods in an online marketplace.

Connecting more people from different places is the driver of stimulating participation platform brands. However, with so much global content coming in from people with different values and interests, making it easier for others to understand, absorb, share, and recreate is a big task to accomplish. Streamlining information flow, simplifying participation steps, customizing content push, and grouping shared interests are all important in creating more user-friendly experiences. Moreover, a balance between individual freedom and non-interrupting organization is key to the success of stimulating participation platform brands.

3. The Championing Subculture

These platforms, besides their apparent functional benefits, promote new ideals and calls for action to be delivered by users, thereby making each of us an agent in the creation of a new order – essentially a better world.

For example, Airbnb initially started by creating value in vacant rooms, connecting hosts with people looking for a value-for-money, short-term stay. Yet, Airbnb is also known as a hospitality industry disruptor and an advocate of the inspirational vision "Create a world where 7 billion people can belong anywhere." As such, it goes beyond being a simple intermediary between tenants and domestic hosts to deliver a call to action for the world to view travel – and hospitality – in a new way. It aims to change the routines of the world and give a new set of responsibilities to its user groups by raising the stakes of what it means to be a host meeting travelers and creating experiences in the city.

As Didi, China's ride-hailing app, becomes the monopolistic mobility services platform in China, it has begun to deliver a brand message of "inviting all hailing companies to jointly develop better mobility solutions for people," which suggests a tendency towards stimulating participation. The imagery used feels like a system: building integrating resources for the city is reminiscent of the responsibility shouldered by governments and its citizens.

4. The Seamlessness Subculture

While championing platform brands emphasize the change they bring to the world, seamless intuition platform brands take the quiet and unnoticeable route of supporting customers' lives with intuitive solutions (such as carefree, quality services) that deliver emotional benefits. This shifts the focus from what the platform offers or creates to an experience focused on life and people. Platform brands become invisible, immersing themselves into users' daily lives and offering not only a user-friendly platform, but also a "living body" intertwined with its users. The brand's duty extends from simply helping users "make it" to providing solutions that "make things better and more suitable for you."

For example, BlaBlaCar (a long-distance ridesharing community started in France) and Didi (China's ride hailing company) communicate less on product offerings and more on emotional resonance, showing how much they care about delivering an enjoyable moment to users. No matter how bad users' days are, these platform brands want their users to continue believing in a good quality of life.

MORE

In summary, Vladimir Djurovic outlines the 4 subcultures of today's platform brands:
Guide – "I guide you to your goal."
Stimulation – "I encourage you to share and interact freely."
Championing– "I create with you a new world for the greater good."
Seamlessness – "I enable you to enjoy and go beyond."

He adds, "Platform brands are shifting the focus from what platforms offer to what helps make the experience better. Target audiences become the center of brand positioning; platform brands comfort, facilitate, and empower users to enjoy a better mood, indulge in more special moments, and achieve more – all while being less visible and woven in the fabric."

Vladimir Djurovic is an expert in helping both foreign and domestic brands to identify their unique positioning and execute effective branding strategies. He has an instinct for trends and a great understanding of the Chinese cultural context through years of experience with clients such as LVMH, Givaudan, Mercedes-Benz, Club Med, ING, Volkswagen and more. He speaks fluent French, English, Mandarin Chinese, Russian and Serbian, and was named an Internationalist Innovator in 2014.