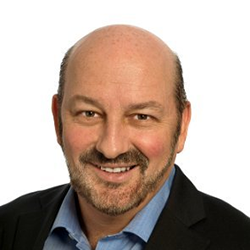 Greg Paull
See the current issue
of The Internationalist magazine
Find out how to sponsor an issue of Trendsetters
Trendsetters: R3's Greg Paull Looks at How to Implement New Consumer Touchpoints for Today's Purchase Journey
The explosion of consumer touchpoints and the growing prevalence of ad blocking requires marketers to find new ways for brands to connect with consumers throughout their daily lives and their purchase decision journey. According to Greg Paull, partner at global consultancy R3, "Exploring uncharted territories necessitates a willingness to take measured risks, a test & learn mindset and skillset, contextually relevant content, and the allocation of a budget dedicated to learning."  
He suggests 6 emerging touchpoints to infuse digital innovation into a core media strategy.  While relevance and feasibility will vary by category and market, these offer a way to increase experimentation and update initiatives.
Beacons: These are triggered geo-location mobile experiences through small wireless sensors that transmit targeted messages and information to nearby mobile devices.

While retailers were among the earliest beacon adopters, the devices are now being deployed at sports and concert arenas, airports, trade shows, conferences, schools, museums, and other popular venues.  

Marketers across categories are using beacons to learn more about specific audience segments and reach consumers based on their traffic patterns. For example, a beacon-equipped department store could send special offers on beauty products to customers as they enter or linger in the cosmetics department, or commuters can receive travel offers while they wait for their train.  

Wearables: Going beyond smart watches and fitness trackers, marketers are using wearables to deepen engagement and connectivity with their customers. Consider these examples:

The contactless payment ring with Mastercard and Kerv taking the friction out of payments.
Disney's Magic Band enables quick check-ins, FastPass+ entrances, hotel room access and more.
Underarmour's Smart Gear includes wearable technology in their running sneakers that help you understand how you should be running to their sleepwear that claims to help you recover better

 

Chatbots: Screen and voice based service, powered by rules and artificial intelligence, that interact with consumers via chat interface. The service can range from functional to entertaining, and it could live in any major chat product (Facebook Messenger, Slack, Text Messages, etc.).

For marketers, a chatbot should address a specific consumer need as it relates to their product category. Below are a few Chatbot examples:

Weather bot - Get the weather whenever you ask.
Grocery bot - Help me pick out and order groceries for the week.
News bot - Ask it to tell you whenever something interesting happens.
Life advice bot - I'll tell it my problems and it helps me think of solutions.
Personal finance bot - It helps me manage my money better.
Scheduling bot - Meetings and reservations.

 

AR/VR Glasses and Headsets: are growing in popularity (i.e. Oculus, HoloLens, etc.). There is already a directory for VR agencies and content studios that can help marketers with strategy and implementation.

For inspiration, below are examples of how marketers are using the space: 

McDonald's made VR Happy Goggles, a virtual reality headset from happy meal boxes that kids could use to play a ski-themed VR game.
Jaguar Land Rover's New banner ad lets you test drive a car from your phone using AR technology.
Casa Coca-Cola used VR technology to immerse visitors into the World Cup game, where visitors could play for their home team and experience the action on the field.

 

Connected Cars: Provide the ability to target drivers with location-based offers or alerts. Marketers can use information about driving habits, entertainment preferences, app use and other specific data sets to deliver targeted, personalized messaging through platforms like Android Auto and Dash services.
 
Voice-Powered Search: According to eMarketer, there are forty-five million voice-assisted devices now in use in the U.S. and that number is expected to rise to 67 million by 2019. Amazon's Echo (Alexa) owns roughly 70% of the market. To understand this evolving space, search experts are laying the groundwork by focusing on what can be done within the Amazon and Google Home ecosystems to ensure brands are ready for voice-powered search.

For example, Staples B2B Voice AI initiative in partnership with IBM Watson, added an intelligent, voice-activated ordering service to "it's easy button," which already had been tested by office managers with enterprise clients. Adobe also launched an analytics tool to help marketers understand how people use voice assistants.
Integrating these touchpoints into a marketing strategy may seem like a daunting task. There are a number of guiding principles to consider when revamping a digital media strategy.
First, it is important to align the innovation roadmap to business objective and strategy. Always set goals. Ask yourself, what does success look like? Establish a learnings agenda and relevant metrics (i.e. gain insight into channel capabilities, consumer usage, reach, costs, influence on consumer behavior, overall effectiveness, etc.). 
Next, make it easier to launch vs block; Reward experimentation, successes and failures. Make sure to launch efforts quickly, track progress and iterate as needed, and shut down mediocre efforts and prioritize resources.
R3 is a leading global, regional and local consultancy group, focused on improving the effectiveness and efficiency of marketers and their agencies. We enable our clients to get the competitive edge and a better return on investment from agencies, media and marketing spend. With over 100 people in the US, Asia, EMEA and LATAM, R3 works with nine of the world's top twenty marketers including Coca-Cola, Unilever, Colgate, Mastercard, Mercedes Benz, Samsung and Kimberly Clark.