Elliot Lum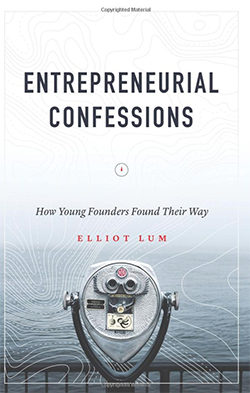 To learn more about Entrepreneurial Confessions on Amazon, PLEASE CLICK HERE:


See the current issue
of The Internationalist magazine
Find out how to sponsor an issue of Trendsetters
Trendsetters: Elliot Lum Offers a New Take on the Millennial Generation--The Power of Purpose & Entrepreneurism
Ask Elliot Lum how he would describe himself professionally, and he'll likely say that he's a marketing executive with a keen focus on developing talent to drive business growth.  He is also the author of Entrepreneurial Confessions -- How Young Founders Found Their Way, which debuted in September. Interestingly, his new book, based on interviews with more than 300 young business founders across 24 states, has helped inform his own work, while also providing a new view of the Millennial Generation.
When discussing his personal journey and the process of the book, Elliot has managed to embrace several inherent contradictions.  He says, "While the Millennial Generation may be among the most entrepreneurial in spirit, they are the least likely to start a business."  (The average age of a person founding a new business is 40 years old.)  Yet he adds, "I found several hundred individuals who lined up on purpose and passion to take a risk in starting a meaningful company.  Interestingly, these young founders simply wanted to do things--largely because they felt an idea was right for the world and they had to do it.  In fact, few were reflective about the process; they simply forged ahead."
Perhaps that desire is the same for founders of other generations; however, Elliot Lum emphasizes the criteria for gauging success is different for Millennials.  Financial rewards are less important than meaningfulness, a concept that is deeper and richer than often-used phrases like "changing the world" or "making a difference."
Interestingly, after two years or crisscrossing the country conducting interviews and admiring entrepreneurship, Elliot admitted that he couldn't be an entrepreneur himself.  "It's the hardest thing anyone can do."  
Elliot Lum's current business role is Senior Vice President, Talent Strategy and Program Development for the ANA's Educational Foundation, where he is leading their efforts to shape the future of marketing talent. Writing Entrepreneurial Confessions has become instrumental to his AEF responsibilities. 
He says, "Collectively, these conversations left a deep impression on me, which helped color my thinking about how to channel the best and brightest talent into the marketing and advertising industry when I assumed the role of designing the industry's first-ever national marketing and advertising internship program. Certainly not all students want to be entrepreneurs. However, based on research the AEF conducted last year, I saw that these students wanted to be entrepreneurial. But for a variety of reasons -- whether it be a lack of funding, the inability to find a co-founder, or not enough of a belief in the idea -- many don't pursue this path. They prefer to act entrepreneurially within an industry so that they can get paid to live."
Lum's criteria for selecting entrepreneurs was simple: founders had to be in their early twenties to mid-thirties and had started a company in the United States. He asked these entrepreneurs about their darkest days, their biggest sacrifices, and their proudest moments--in other words, their most honest personal and business confessions. 
Entrepreneurial Confessions has three main sections:
Entrepreneurial Traits, which contains stories that emphasize the specific traits that have made an entrepreneur successful. 
Personal Impact, which explores the relationships and experiences that become integral to a founder's journey. 
Career Models, which looks at different forms of entrepreneurship, rather than organization by industry or the amount of funding raised. 
Prior to his role at AEF, Elliot Lum served as Vice President, Strategic Marketing at Columbia Records where for six years, he put together marketing partnerships between brands and artists. Prior to Columbia Records, he was a brand manager for the Max Fresh business at Colgate-Palmolive. He received his MBA from MIT Sloan, where he won a Leadership Award for putting together the school's first-ever marketing conference. He received his BA in art history from Columbia University. He lives in New York City.