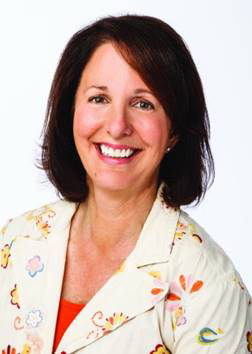 Kristi Argyilan


See the current issue
of The Internationalist magazine
Find out how to sponsor an issue of Trendsetters
Trendsetters: Target's Kristi Argyilan Discusses the Math & Magic of Marketing
Kristi Argyilan believes that marketing today is a participatory sport, which means marketers simply cannot sit on the sidelines if they want to embrace a new generation of consumers.  One of her favorite phrases sums it up this attitude best: "We're all in the business of change."
Named one of this year's Top Women in Retail, Kristi Argyilan admits to enjoying "the constant change driven by ever-evolving guest expectations" as part of her drive to be a preferred retailer.
As Target's Senior Vice President of Media, Guest Engagement and Measurement, she leads a team that is transforming all paid, owned, earned and shared media channels for the company. The retailer launched Target Guest Access two years ago as a one-of-a kind, in-house programmatic operation that leverages first-party data to reach shoppers through Target's digital, mobile and media channels, while ascribing in-store sales to specific ad impressions. Her team has also designed an in-house attribution capability that supports this work, as well as a dynamic influencer marketing program.
Without question, the pace of change in retail, and at Target in particular, is rapid. Kristi likes to talk about the math and magic of marketing, but she learned quickly how the math informs the magic. Data, particularly first-party data, is crucial to achieving relevance and results.  
Speaking at the ANA's Media Conference earlier this spring, she said, "Data—it's everywhere.  People are selling you data and selling your own data back to you.  What distinguishes good marketing is the quality of the data.  I urge you to lift the hood and look at the quality of your data.  At Target, we're invested in first-party data, but we also realize that as a retailer, we are at end of purchase funnel."
Kristi emphasizes that "real behaviors from real people drive real results."  Target boasts 5,000 transactions a minute and 100 million guest profiles. She admits that "people-based" first-party data, which consistently outperforms cookie-based data, is a top priority.  Interestingly, Target's guest profiles aren't limited to a customer's browsing or purchase history. Recognizing the importance of adding to guest profiles, her team also developed Gift Finder to better connect with guests during the critical holiday season.
Target also sees Influencer Marketing as way of broadening its cultural conversation.  However, Kristi admits: "In 2015, we had more than 1,000 influencers working through third parties. The return on investment wasn't really great."  As a result, Target brought its influencer work in-house, reduced the number of influencers to 100 and built deeper relationships that improved return on investment.  In fact, these key influencers are now appearing in sophisticated Target TV ads that were actually created by the marketing department.  
She believes that influencers who sell experiences and merchandise—even if on a limited-time basis—will be one of the trends that significantly impact retail this year.  Target has already seen that the quality of their influencer content is improving, because it is becoming more genuinely emotional.  It has also caused the retailer to increase its influencer investment.  According to Kristi Argyilan, "Influencer Marketing is not a tactic for us; it's what we do.  We fixed the fundamentals and now we extract value and better relationships from the program."
Kristi Argyilan joined Target in July 2014. In her current role, she is spearheading Target's enterprise media strategy which includes communications strategy, all digital channels (brand and DR), paid social, guest engagement (organic social and conversations), traditional media channels, vendor marketing programs, as well as launching Target Guest Access (Target's entry into the data product and publishing business through a digital media exchange open to other national advertisers) in addition to driving several key campaigns, including Target Holiday, Target Style and the Grammys. 
Most recently, Kristi has been driving "performance marketing" for Target via a measurement capability which includes marketing mix modeling and near time measurement for in-market optimization. She also leads enterprise strategic partnerships with key media companies (Google, Facebook, Pinterest, Snapchat, Twitter, NBCU) and agency partners (Mother, Deutsch LA, GroupM's Essence/Team Arrow, etc.). 
Kristi Argyilan and her team's work have received industry recognition including: Digiday People-Based Marketing Pioneer, Mobile Marketing Association (MMA) Media Company of the Year, MMA Global Marketer of the Year, "Digital 40 over 40," Internationalist "Next 50," and Brand Innovators' "Top 100 Women in Brand Marketing." In 2014, Kristi was named one of Ad Age's"Women to Watch" and an Internationalist "Agency Innovator."