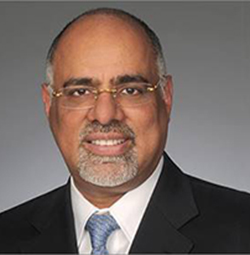 Raja Rajamannar
Raja Rajamannar has worked for Mastercard since 2013, and has led the company's marketing transformation, including the integration of the Marketing and Communication functions, the evolution of its Priceless experiential platform, and the creation of cutting-edge marketing-led business models into the core of the company. He also serves as President of Mastercard's Healthcare Division in addition to his role as Chief Marketing and Communications Officer.   
With more than 30 years of experience as a global executive across multiple industries, previous roles include Executive Vice President and Chief Transformation Officer, WellPoint (now Anthem, Inc.); Chief Executive, International and Chief Innovation & Marketing Officer, Humana; Global Chief Marketing Officer, Cards and Payments, Citigroup; and CEO of Diners Club North America. He started his career with Asian Paints in India.    
In his new role as WFA President, he replaces David Wheldon, CMO at RBS, who held the role since 2015. Wheldon will continue to serve on WFA's Executive Committee as Regional Vice-President for Western Europe. Raja Rajamannar is also a member of the Board of the Directors of the ANA/Association of National Advertisers, based in New York.
See the current issue
of The Internationalist magazine
Find out how to sponsor an issue of Trendsetters
---
If you have spotted a trend or given a recent presentation on a global issue, please tell use and don't forget a photo of yourself!
To submit to Trendsetters, contact me at: linkedin.com/in/deborah-malone-ab5897,
The Internationalist group on LinkedIn: https://www.linkedin.com/groups/2560753/or at Twitter--@DMaloneIntl
Trendsetters: Mastercard's Raja Rajamannar Shares his Vision for Securing Marketing's Future
The Internationalist Trendsetters is written by Deborah Malone, founder of The Internationalist.
 
Raja Rajamannar, Mastercard's Chief Marketing and Communications Officer, clearly recognizes the complexity of marketing today, but also wants to guarantee its essentiality in the future.
Last week, he was named President of the WFA (World Federation of Advertisers), following his election as the WFA 2018 Global Marketer of the Year.  This comes on the heels of Mastercard's bold move to become a "symbol brand" with a logo that simply displays its iconic interlocking red and yellow circles, and the launch of its new sonic brand identity platform to ensure that a Mastercard melody continues the brand's seamless familiarity around the world.
Speaking at the WFA's Annual Global Marketer Week, held this year in Lisbon from March 26-29, Rajamannar raised three issues that he'd like to set as industry priorities during his initial 2-year term as President.
The first is to elevate what he describes as "the stature and gravitas of marketing."  He believes that the discipline of marketing is facing "an existential threat" when well-known companies are replacing a traditional Chief Marketing Officer role with a multiplicity of new job titles or regional and local leads.  He says, "I'd like to bring marketing into the limelight like never before.  This means redefining our role in an era of technology and data, so that we can be a business driver and have a viable seat at the table. We need to stay constantly curious, take thoughtful risks, and scale fast, as the pace of technology and innovation will not slow down anytime soon. We must show that business cannot work without marketing."
Raja Rajamannar's second priority is very much tied to his first—a focus on talent. He says, "Talent transformation needs to be at the top of every CMO's list. Our industry has changed more in the past five years than in the preceding twenty. Today, it's not only important to be classically trained in the field of marketing, you need to understand public relations, digital technologies, data science, business models and drivers. Marketers need to be general managers, not just functional specialists.  As new marketers come through it is important that they diversify their skill sets and learn the fundamentals of how to build both a brand and a business. We need to hire and nurture 'superhuman beings' with a multitude of talents."
His third priority is to empower marketers around with the tools they need, which brings to life the mission and purpose of the WFA.  He emphasized, "The opportunity in front of marketers today to make a difference for their brand, their business and even the world is tremendous. I am honored to pick up and carry the torch as President of WFA, an organization committed to elevating and advancing the activities of our profession, and a role I am convinced will become even more important in the years to come."
Raja Rajamannar takes on his role as WFA President as the organization has evolved its mission to a platform of "Better Marketing." This stance acknowledges that marketing has a "trust problem" and needs to "put people first" to not only determine how marketing can be a force for positive change in society, but to also create the conditions for a marketing ecosystem that works better for brands and consumers.
In fact, Rajamannar's public address on March 28th at the sold-out WFA/APAN (Associação Portuguesa de Anunciantes or the Portuguese Advertiser Association) Global Marketer Conference at Lisbon's Convento do Beato focused on "Brand Morality in a Chaotic World."  He addressed Mastercard's purposeful marketing journey and raised some key issues about brand purpose-- emphasizing the importance of genuinely building social causes into the core business, rather than as a standalone CSR initiative.
Rajamannar emphasized that a purpose-driven business will grow faster than one without a purpose.  Six years ago, he felt it was critical to "bake purpose into the core of all we do."  However, he admitted it was difficult to find one purpose or social cause that appeals to all stakeholders when you are global organization in more than 210 countries and affiliated with over 40,000 banks.  Yet, he and Mastercard's CEO clearly believed that the company would do well if it were to do good.  Their goal was to be a "decent company," or one that demonstrated it cared for society.  
They found their answer in healthcare after discovering that one out of every two people in the U.S. is affected by cancer during their lifetime—directly or through their circle of family and friends.  Additionally, one in three women are diagnosed with some form of cancer through their life.  Mastercard decided to raise awareness of these issues to help organizations find a cure.  And the brand knew that consumers ardently shared MasterCard's desire to help eradicate this pervasive disease.  Yet, Raja Rajamannar asked, "What gave us permission to go into the cancer space—in a way that was genuine, authentic, and not for commercial mileage?"  He explained: "We understand payments, technology and marketing-- that's our space.  If we can allow those working to cure cancer to focus on finding the cure and not the administrative end of fund-raising, then we are making a difference." 
The Mastercard partnership with Stand Up to Cancer began.  Rajamannar underscores that it started in a simple, transparent way: "If you use your Mastercard at restaurants during the eight weeks of summer, Mastercard will contribute a tiny part of our profits to Stand Up to Cancer."  The initiative seamlessly created a way for people to donate to a cause they felt passionate about.  Mastercard has now raised USD $45 million and is the single largest corporate contributor to the organization.  And this was just the starting point of a program that has evolved through strength and innovation.  He says, "This is extremely gratifying to the people in the company. They are part of an organization that is making a difference.  This also helps us to attract younger talent who want to work for purpose-driven companies."
However, he also emphasizes that the connection between cancer and Mastercard can never be seen as self-serving or inauthentic.  "We are transparent upfront that we are channeling funds to a cause when you use your Mastercard.  However, we don't amplify it—even if others like actor, film producer, and activist Pierce Brosnan speak favorably about our work.  Yet, we recognize that this affects our business.  In the restaurant category, our spend goes up during the Stand Up to Cancer promotion period and stays higher afterwards.  The delta is greater market share.  So again, incorporate purpose within the business—not outside of it."
He offered several lessons in the authentic pursuit of purpose by any brand.
Build on your unique strength—one that is tied to your business model.
Focus on scalable ideas. Start by considering a small number of big ideas, so one can make a significant difference.
Partner with like-minded companies and organizations.  Stand Up to Cancer was a perfect fit for Mastercard as we shared similar objectives and could see eye-to-eye.
Commit for the long-haul.  Don't fritter your energy.  Your energy is a currency.
Align with the C-Suite and secure commitment from the top.  Marketers must be the heart of the organization, so it is spiritually and emotionally integrated.  
Engage your employees.  An initiative will not work if it is not resonating with them and giving them the opportunity to rise to the occasion.