Bob McDonald
Bob McDonald graduated from the U.S. Military Academy at West Point in 1975 with a Bachelor of Science degree in Engineering. After graduation, he served in the U.S. Army for five years, primarily in the 82nd Airborne Division, attaining the rank of Captain, and earned an MBA from the University of Utah in 1978.
He joined Procter & Gamble in 1980 and served as a brand manager for Tide from 1984–1986. In 1989 he transferred to Toronto to lead P&G's Canadian Laundry business and moved to the Philippines as General Manager in 1991. In 1995 he became Vice President, Laundry & Cleaning Products Asia, and relocated to Japan. A year later in 1996, McDonald became President, Japan Operations, and in 1999, President, Northeast Asia. Two years later he moved to Brussels as President, Global Fabric Care and later President, Global Fabric & Home Care. He was appointed Vice Chairman, Global Operations in 2004 and appointed Chief Operating Officer in July 2007. Bob McDonald became President and Chief Executive on July 1, 2009. He assumed the Chairman of the Board role January 1, 2010.
Under McDonald's leadership, P&G significantly recalibrated its product portfolio, expanding its marketing footprint by adding almost one billion people to its global customer base. 
Shortly after, he was nominated by President Obama to become the eighth Secretary of the Department of Veterans Affairs. 
Today, he serves on the boards of RallyPoint, an online network for veterans and people in the military; Audia Group, an international plastics producer; the Institute for Veterans and Military Families, and the Partnership for Public Service; and Quotient Technology (formerly Coupons.com), a provider of digital promotions, media, and shopper analytics
See the current issue
of The Internationalist magazine
Find out how to sponsor an issue of Trendsetters
---
If you have spotted a trend or given a recent presentation on a global issue, please tell use and don't forget a photo of yourself!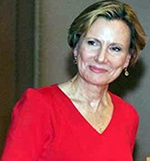 To submit to Trendsetters, contact me at: linkedin.com/in/deborah-malone-ab5897,
The Internationalist group on LinkedIn: https://www.linkedin.com/groups/2560753/or at Twitter--@DMaloneIntl
TRENDSETTERS: Former P&G CEO Bob McDonald Discusses Values-Based Leadership & Company Purpose
The Internationalist Trendsetters is written by Deborah Malone, founder of The Internationalist.
 
Bob McDonald lives an extraordinary and exemplary life.  A West Point graduate, he spent three decades at Procter & Gamble-- rising from brand manager of Tide to become Chairman, President and CEO.  He also served the United States as the eighth Secretary of Veterans Affairs with a unanimous confirmation vote by the Senate.  His goal was to give veterans consistent and high-quality services, while creating cost-saving efficiencies in supply chain practices. Today, he serves on numerous boards and speaks publicly about leadership.
Last week in New York, he shared his inspirational views at the first U.S. edition of "Break the Ceiling Touch the Sky® – the Success and Leadership Summit for Women®." Considered one of the world's most admired "women in leadership" forums, the global conferences series was founded in Singapore by former P&G and Walmart executive, Anthony Rose, as an accelerator of gender diversity in the workplace-- enabling women (and male champions for diversity) to share best practices on leadership and success. 
During his keynote address at the conference, Bob McDonald stated, "The more people and capital you manage, the more deliberate you will have to be about your leadership. So, as you grow as a leader, you will need to define your leadership philosophy, starting with your values. Everything begins with the mission and values.  You need to ensure your organization is focused on the mission and values and is trained on both."
He also discussed how "institutions must do well and do good at the same time."  In fact, he emphasized that a company "must do good to do well."  He said, "P&G doesn't compartmentalize; purpose is pervasive throughout all they do.  One example is safe drinking water.  The company ultimately decided to give away its purification product in the emerging world-- to save lives and to save women from walking an average of 7 kilometers each way to a daily water source.  "Not-for-profit and for-profit can link," he underscores.
"Living a life driven by a purpose is more meaningful and rewarding than meandering through life without direction.  Purpose adds passion and a sense of direction," says McDonald.
Some of his other points on leadership included:
Everyone wants to succeed, and success is contagious.  Leaders should prove that individuals can succeed by training them to continually accomplish bigger tasks and build on positive experiences. 
Putting people in the right jobs is one of the most important roles of a leader. People who could be successful might simply be in the wrong jobs. 
Character is the most important trait of a leader, and Bob McDonald's definition of character is someone who takes responsibility for organizational results.  He admits that he'd always hire a potential employee with character over someone with skills.  He says, "You can always teach someone skills; true character is harder to find."  
Diverse groups of people are more innovative than homogenous groups. He says, "This has been proven true in every country where I have worked and in every role I have had."  He stresses, "The Golden Rule is to treat others as you want to be treated.  However, The Platinum Rule is to treat others as they want to be treated."  He adds, "You actually have to get to know others to use The Platinum Rule."
Ineffective strategies, systems and cultures are bigger barriers to achievement than the talents of people. Bob McDonald urges leaders to "go back to the mission," which should help evaluate if a system if flawed. 
Organizations must renew themselves.  "You can't keep it the same and expect it to succeed. The ability to continue to learn is the answer to how an organization stays relevant."
---
The 2019 USA Edition of BREAK THE CEILING TOUCH THE SKY® offers participants a unique opportunity to learn best practices for gender diversity and inclusion, success and leadership from some of the greatest leaders in business today. Leaders with wide US and international experience who understand the context of a constantly changing, dynamic world and are leading the USA's charge as the leader of international business. 
The 2019 USA Edition, which took place in New York on Feb 4, 2019 represents a perfect opportunity for women leaders in the USA (as well as male leaders who value gender diversity) to learn, network and achieve at an international forum, which attracts participation from across industries.  The 2019 USA Edition focuses heavily on enabling women leaders with the future skills, best practices, tools and technologies to deliver higher ROI on their business, enhance their social impact and truly get themselves and their teams/ organizations to the next level of success.
The world sponsor of the event series is Coca-Cola; other top sponsors include Kroger & PepsiCo. The Global Advisory Council to BREAK THE CEILING TOUCH THE SKY® includes a unique group of Global Executives who are gender diversity champions from such global companies as Coca Cola, Kellogg's, Adidas, Unilever, Johnson & Johnson Consumer, Procter & Gamble and S.C. Johnson, among others.