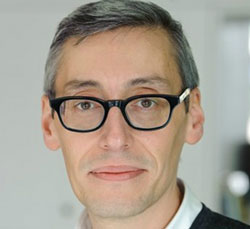 Gerry D'Angelo
See the current issue
of The Internationalist magazine
Find out how to sponsor an issue of Trendsetters
---
If you have spotted a trend or given a recent presentation on a global issue, please tell use and don't forget a photo of yourself!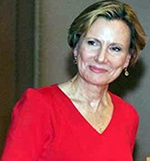 To submit to Trendsetters, contact me at: linkedin.com/in/deborah-malone-ab5897,
The Internationalist group on LinkedIn: https://www.linkedin.com/groups/2560753/or at Twitter--@DMaloneIntl
Trendsetters: P&G's Gerry D'Angelo Set to Drive Change in the Global Media Ecosystem

 
The Internationalist Trendsetters is written by Deborah Malone, founder of The Internationalist.
Gerry D'Angelo, Procter & Gamble's Global Media Director, will be joining media leaders from some of the world's biggest advertisers in a new Global Media Board designed to work together to drive change in the digital media ecosystem and make the WFA's Global Media Charter a reality.
The WFA (World Federation of Advertisers) has announced major changes to its structure in order to encourage adoption of the measures set out by its Global Media Charter.  It has appointed Gerry D'Angelo to become co-chair of the WFA's Media Forum, a community of client-side global media directors within WFA's membership, working alongside Ben Jankowski, SVP Global Media at Mastercard. The organization has established a Global Media Board to work alongside Gerry and Ben, providing another opportunity for marketers to share their experiences of implementing the measures outlined in the Media Charter.
Members of the Global Media Board represent companies spending in excess of $45 billion on communications each year collectively and have the power to drive change through the media ecosystem.
"I'm honoured to be invited to serve as the co-chair of both WFA's Media Forum and new Board, at this critical time for the industry. Advertisers can no longer relinquish control of media, data and algorithms. Together, we're transforming the media industry, taking back control to lead mass disruption through active participation in industry bodies such as the WFA, and promoting measures as set out by the Global Media Charter," said Gerry D'Angelo.
Gerry D'Angelo is a veteran of the media world. He is currently Global Media Director at P&G, the world's largest advertiser with responsibility for P&G's significant investment in media, managing relationships with key external agencies and partners and driving best practice across all its businesses and regions. Previously to P&G,he held client-side media roles at Mondelez and Samsung, as well as having worked media owner side at Sky and agency-side at Starcom and Leo Burnett. 
The WFA Global Media Charter, published earlier this year, sets out the key issues facing advertisers in digital media today and demands change in eight areas including ad fraud, viewability, brand safety and transparency. 
"The charter is not a magic solution to the challenges of the digital media space. It asks for change but it's just a starting point. It lists the needs of the media investors who fund this ecosystem and makes clear that things cannot go on as they are," said Matt Green, Global Media Lead, WFA. "P&G are taking a clear leadership stance on many of the issues identified in the Media Charter and it makes perfect sense for Gerry to take on a role within the only global network of client-side media directors, helping us to resolve a number of industry issues." 
The Global Media Board will help WFA realize the change called for in the WFA Global Media Charter, provide members with a closed environment to openly share media-related ideas and experiences with their peers as well as set the direction for WFA's global media strategy.
The eight Principles for Partnership require action from both advertisers and those across the media value chain. They are:
Zero tolerance to ad fraud with compensation for any breach: a streamlined process to refund all media investments, including fees/commissions, found to be associated with invalid traffic/non-human impressions. Advertisers seek to use accredited third-party verification solutions to assess exposure to ad fraud.
Strict brand safety protection: Advertisers require platforms and publishers to accept responsibility for the content carried on their sites and to employ comprehensive and rigorous safeguards on which accounts and channels can host paid advertising. Advertisers commit not to target media investment at content platforms that misuse and infringe IP laws or sites responsible for fake news content or disinformation.
Minimum viewability thresholds: Brands should be able to trade against the viewability level that is appropriate for their business including 100% in-view for full duration, if desired. Advertisers understand that higher viewability standards could impact on inventory supply and campaign reach.
Transparency throughout the supply-chain: complete transparency through the supply chain (digital or otherwise) covering pricing and trading, fees and costs, placement and data usage. Advertisers respect the right of partners to be profitable and commit to relevant and fair levels of remuneration for services rendered.
Third-party verification and measurement as a minimum requirement: Self-reported data is unacceptable, and advertisers need third-party verification that inventory is viewable, fraud free, brand safe and on-target. Advertisers commit to prioritize third-party ad serving and verification companies who are audited and certified by the relevant industry-approved bodies.
Removal of 'walled garden' issues: data and technology should be unbundled, allowing advertisers to use the third-party buying platform of their choice in any and all environments. Publishers and platforms should work to create a solution that provides impression level data with spend tracking companies to enable brands to track media spend in their category and competitive set.
Improving standards with data transparency: Data supply chain partners must uphold the same high standards outlined in the WFA's Data Transparency Manifesto. Advertisers commit to working with partners to ensure data is ethically and transparently sourced as well as securely stored with appropriate assurance mechanisms, including audits. Data collection should be the minimum required to deliver a quality advertising experience.
Take steps to improve the consumer experience: Consumers are becoming increasingly frustrated with ads that disrupt their experience, interrupt content, slow browsing or eat up their data allowances. Advertisers and platforms should design commercial communication opportunities so that they are less intrusive and offer a better user experience.
WFA, alongside the companies and advertiser associations who helped develop this charter, are calling on all players in the media value chain to work together to implement these eight principles.
Ben Jankowski, Senior Vice President of Media at Mastercard and co-chair of WFA Media Forum said "As the market continues to change quickly, global brands are being more tangible and specific about what we expect from the entire ecosystem; our tech partners, agency partners media owners and digital platforms. The WFA's Global Media Charter is designed to ensure that everyone has the same common understanding of what we all need to do to thrive. Everyone should join us on this journey."
Members of the WFA Media Forum include: 
Bea Lindvall, Global Head of Media, Danone 
Belinda Smith, Global Head of Media, Electronic Arts 
Ben Jankowski, SVP Global Media, Mastercard
Gerhard Louw, Head of International Media Management, Deutsche Telekom
Gerry D'Angelo, Global Media Director, P&G
Luis Di-Como, SVP Global Media, Unilever
Oliver Maletz, Head of International Communication and Media Planning, Volkswagen 
Rob Rakowitz, Head of Global Media, Mars
Sarah Armitage, Group International Media Director, LVMH 
Simon Peel, Global Media Director, Adidas 
Sital Banerjee, Global Head of Media, Philips 
"The WFA Global Media Board is about change and it's about growth. We recognize the need to give the Media Charter more practical application and that's what we're seeking to do with the Board. And by addressing these and other issues, which are global in nature and require a global approach, we intend to provide an environment for more effective marketing for all clients, ultimately leading to better outcomes," said Stephan Loerke, CEO, WFA.