Jason Hill
Laura Correnti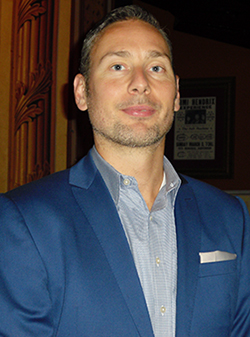 Nick Blunden

Jason Hill, Director of International Advertising & Content at GE, along with Laura Correnti, Group Digital Director at OMD and Nick Blunden, Global Digital Publisher of The Economist
See the current issue of
The Internationalist magazine
Trendsetters: GE's International Ad Director Jason Hill Shares How Company Has Morphed from Advertiser to Publisher

GE likes to consider itself the "world's oldest start-up" as it continually applies innovative thinking to solve contemporary challenges. "Look Ahead," a new brand content project, demonstrates how one of marketing's biggest brands has turned its advertising model upside-down to provide thought leadership to the difficult-to-engage business leader community around the world.

On Wednesday at Advertising Week in New York, Jason Hill, Director of International Advertising & Content at GE, along with Laura Correnti, Group Digital Director at OMD and Nick Blunden, Global Digital Publisher of The Economist, shared their experiences as advertiser, agency and publisher to demonstrate how branded content, when properly executed, can provide rich insights and great value to an audience and a brand. (Deborah Malone of The Internationalist moderated the panel discussion.)


According to GE's Jason Hill, "We have a mandate to develop marketing initiatives that are as innovative as the products coming out of our global R&D centers. So we experiment; we take risks; we want to look at channels that make sense to our audiences to craft strategic and breakthrough ways to use those channels."


Without question, this new form of marketing— whether currently called branded content, sponsored content or native advertising-- has become increasingly prevalent. Some say it's a way for publishers try to create more sources of revenue. Others say it's a new means of engaging an online audience as banner ads become less effective. And still others believe that brands are everywhere, and this is indeed editorial that delivers value.
CLICK HERE TO SEE THE GE CASE STUDY & PANEL DISCUSSION
GE's "Look Ahead" program is a good example of effective and engaging content, particularly as more business leaders become interested in the company's perspective on a myriad of issues from energy to healthcare.
Hill adds, "In terms of the role of content, one thing our reputation research tells us—and we do a lot of it—is that the more people know GE, the more they like GE. So our content strategy is about uncovering and telling great stories about innovation, technology, big data, developing healthcare, and so on. We want our customers, our shareholders, our employees to know what GE thinks about the world and content-led programs are a way to do it."
In many ways, "Look Ahead" is at the forefront of digital advertising as paid, earned, owned and shared channels continue to converge.

OMD's Laura Correnti, who has been leading the charge in developing digital strategy for GE over the past four years, describes her job as developing industry firsts in the native ad and real-time content marketplace. She says, "As branded content becomes the preferred vehicle for advertisers to tell their story and connect with consumers, media agencies are challenged with moving beyond status quo buying tactics to take on new roles as strategic content amplifiers."

When executing, it is imperative that the content is not only discoverable, but contextually relevant. It also must, enhance the user experience and provide a platform where consumers can connect with the brand."

She also believes that "Native advertising will soon be so 2013. Instead we should be shifting focus to POV advertising, a format that allows brands to morph into publishers by adding their lens to contextually relevant topics on the given platform."

Nick Blunden, Global Digital Publisher of The Economist, and a critical partner in the "Look Ahead" program agrees with Laura Correnti. "There has been a great deal of discussion about native advertising, but paradoxically, I think there is very little shared understanding about what it is. In many ways, I don't think the term does justice to the GE program, which is really a much richer content marketing program, not just a collection of native advertising."
Blunden continues: "I think one of the big challenges around native advertising is that it is often an excuse to take a standard ad and make it look and feel like a piece of content. This approach adds very little value to the brand, the audience or indeed to the publisher.

However that doesn't mean that all native advertising is bad. Far from it. Native advertising is a very broad church and like most things when done well it can be very powerful.Indeed, it is hard to argue with the two main drivers of native advertising namely that advertising ought to sit more elegantly in the content experience so it less interruptive and that we ought to be able to create advertising that people want to engage with rather than being forced to.">

He also sums up one of the core issues of successful content programs: "How do you ensure that these types of branded content programs add value to readers as well as to the brand? Make sure that the partnership between the publisher and the brand makes sense editorially. And make absolutely sure that the resulting content creates value for the reader."