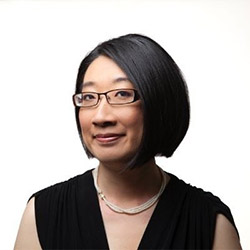 Yin Woon Rani, CEO of MilkPEP
See the current issue
of The Internationalist magazine
Find out how to sponsor an issue of Trendsetters
---
If you have spotted a trend or given a recent presentation on a global issue, please tell use and don't forget a photo of yourself!
To submit to Trendsetters, contact me at: linkedin.com/in/deborah-malone-ab5897,
The Internationalist group on LinkedIn: https://www.linkedin.com/groups/2560753/or at Twitter--@DMaloneIntl
TRENDSETTERS: Yin Woon Rani, CEO of MilkPEP, Introduces a New "Got Milk?" for These Times...
The Internationalist Trendsetters is written by Deborah Malone, founder of The Internationalist.

Yin Rani's career has been built on bold strategies, coupled with breakthrough communications. Last October, she accepted the role as Chief Executive Officer of MilkPEP or The Milk Processor Education Program, where she started to address the challenges of the milk industry by using marketing to make a positive impact. Less than six months in her new position, COVID-19 interrupted some of her plans—but certainly not all!
During lockdown, milk sales increased at rates not seen in years. Across the U.S., milk sold at retail climbed about 4 percent year-to-date from January 1-June 12, 2020. Interestingly, in our stay-at-home world, milk lovers also found new ways to share their much-loved drink on social media, which inspired Yin Rani and her teams to create a new "Got Milk?" campaign for these times.
While the original "Got Milk?" campaign of the 1990s highlighted celebrities and their milk moustaches, today's campaign turns to those every-day consumers who are sharing their fondness for milk by making it an online superstar through their posts, games and pictures. Today's MilkPEP campaign is reframing the iconic "Got Milk?" tagline to literally "Show Us What You Got" for an energetic and enthusiastic social media-loving generation.
To hear more from Yin Rani, tune in to our Trendsetters podcast as she discusses the origins and goals of the campaign and how her 25 years of integrated marketing experience have prepared her for today's MilkPEP role. CLICK HERE.
In our conversation, we discuss the following:
The mission of MilkPEP and the role of its CEO.
Why the "Got Milk?" campaign is being brought back.
While milk sales to homes increased during the early weeks of COVID-19, does this represent a sustained lift?
How the campaign will use media now versus the past, as well as new influencers and partners. 
The insights about milk during the COVID era.
How the dairy industry will keep consumers interested after the pandemic subsides.
Prior to joining MilkPEP, Yin Rani was VP, Chief Customer Experience Officer for the Campbell Soup Company, where she was instrumental in modernizing the company's marketing across content, media, design, martech and digital – as well as improving the business trajectory for important core brands and new launches. Before joining Campbell Soup, Rani was president, North America of Universal McCann, the largest operating unit within IPG's Mediabrands group.

Yin Rani earned a Bachelor of Arts from Yale University and a Master of Business Administration from the Stern School of Business, New York University. She is active and respected within the marketing industry, earning recognition from a range of industry awards, both as a marketer and as an advocate for diversity – including YWCA's Women of Year, SheRunsIt "Working Mother of the Year," Brand Innovators Top 50 Women in Marketing, Path to Purchase Institute "Who's Who in Shopper Marketing," among others. She was also named an Internationalist of the Year by The Internationalist in 2015.