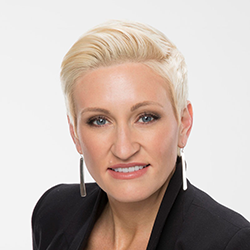 Amanda Brinkman
See the current issue
of The Internationalist magazine
Find out how to sponsor an issue of Trendsetters
---
If you have spotted a trend or given a recent presentation on a global issue, please tell use and don't forget a photo of yourself!
To submit to Trendsetters, contact me at: linkedin.com/in/deborah-malone-ab5897,
The Internationalist group on LinkedIn: https://www.linkedin.com/groups/2560753/or at Twitter--@DMaloneIntl
TRENDSETTERS: Deluxe Corp's Amanda Brinkman Demonstrates that Small Businesses have Big Hearts
The Internationalist Trendsetters is written by Deborah Malone, founder of The Internationalist.

Amanda Brinkman believes that small businesses have big hearts. As the Chief Brand and Communications Officer at Deluxe Corp., long known as a maker of checks, she transformed the company by highlighting its small business clients rather than Deluxe itself, while ensuring that the company would become a resource for small business tools and opportunities.  She says, "Small business owners love what they do, and they love their communities.  They stand up in extraordinary ways.  It's simply their instinct." 
In fact, Deluxe Corp. has been sharing the stories of business owners across the U.S. who are creating hope through their generosity amid the uncertain times brought on by Coronavirus.  She outlines, "We tell the story of how these businesses are pivoting their business model and paying it forward, providing inspiration and insights to the small business community." The stories found at Deluxe Corp's  www.smallbusinessrevolution.org also link to ways to donate to these businesses or connect directly to theirGoFundMe page. 
One touching story is from Crema Bakery & Café, whose owner was worried about kids who might be missing meals while not in school. Crema started offering bagged lunches to students and others in need. To date, they've given away more than 800 meals and have even turned their café into an affordable food pantry, offering curbside grocery pick-up.
Amanda Brinkman is both a revolutionary and passionate brand marketer, who has made two leadership moves that are now among the contemporary hallmarks of good marketing—she turned to her customers to see how she could address their needs, and she inherently understood that an organization could "do well by doing good." Plus, she recognized that small businesses need two things to succeed—1. Finances and 2. Marketing.  As a result, Deluxe now offers tools to help small business become better marketers, so they can attract customers, serve their local communities, and create vibrant enterprises. "Marketing," she emphasizes, "does make a difference to small business."
Certainly, the COVID-19 crisis has made us all aware of how Small and Mid-sized Enterprises (SMEs) account for most businesses worldwide and are important contributors to job creation, innovation, and global economic expansion.  In fact, there are 30.7 million small businesses in the U.S. which account for 99.9 percent of all U.S. businesses, according to the SBA/Small Business Association 2019 statistics.
To hear more from Amanda Brinkman, tune in to our Trendsetters podcast as she discusses the importance of meaningful brand action and how creating a small business revolution can start by simply listening.  CLICK HERE.
In our conversation, we discuss the following:
The best way for a CMO to make a difference to a business.
Does "doing well by doing good" go beyond today's notion of purpose.
The importance of genuine storytelling and the impetus to share meaningful stories.
How to authentically discover what matters to your customers.
a "culture of ownership" fosters cooperation and creativity.
How small business will change post-crisis.
The Internationalist was founded to help better understand the "reinvention of marketing" by connecting the people and ideas in international advertising and marketing.  Our Trendsetters eNewsletter lives at the heart of this Internationalist mission as it spotlights a person and an idea in international marketing.  Over the last decade, we have amassed hundreds of profiles of extraordinary individuals and their groundbreaking work on our website. 
We've learned that there's interest in hearing the voices of these marketers directly, which gave life or our TRENDSETTERS podcast, now part of the Success Made to Last Network on Blog Talk Radio. Started by an Executive Producer with a past marketing/branding career at Procter & Gamble, PepsiCo and General Mills, the network boasts nearly 1 million listens in the US.  
If you'd like to learn more about The Internationalist's Trendsetters podcast series, here's an introduction to the show.
In 2015, Amanda Brinkman was recruited to transform Deluxe Corp.'s 100-year-old, $2 billion brand. She spearheaded the "Small Business Revolution," first showcasing 100 businesses across America. Next, recognizing that small businesses are especially under siege in small towns, the company launched the Small Business Revolution - Main Street show, which each season gives one small town and its small businesses a $500,000 makeover. Now in its 5th season, she is the creator, producer, and co-host of this acclaimed series now found on HULU, Prime Video and SmallBusinessRevolution.org.
Amanda's career started at top ad agencies Fallon, Cohn & Wolfe London and McCann with campaigns for over a dozen brands such as Virgin Mobile, Reebok, NYSE, Colgate-Palmolive, H&R Block and her favorite client of all time - BMW on breakthrough work like the BMW Films. She then carved out a niche as an "intrapreneur," cultivating creativity from the inside out at General Mills, Allianz and UHG. Amanda has served on the boards of the Children's Cancer Research Fund, Make-A-Wish, and currently serves on Children's Theatre Company, the Ordway, the Women's Business Development Center Chicago and the ANA.