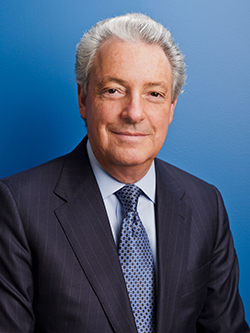 Michael Roth
See the current issue
of The Internationalist magazine
Find out how to sponsor an issue of Trendsetters
Trendsetters: IPG's Michael Roth Discusses Current Industry Issues at ANA's Advertising Financial Management Conference
Michael Roth is the Chairman and CEO of Interpublic Group, one of the world's top four advertising and marketing services companies, and home to such agencies as McCann, FCB, R/GA and IPG Mediabrands. The company made news this April with a 6.7% increase in organic revenue in the first quarter compared to the prior-year period, following better than expected growth in 2015. Plus, IPG was one of the big beneficiaries in last year's unprecedented number of media reviews with wins from Coca-Cola, Johnson & Johnson, CVS, and Sony.

Last week, during an interview with ANA's CEO Bob Liodice at the organization's annual Advertising Financial Conference, Michael Roth shared his perspectives on top industry issues ranging from the evolving role of the agency to compensation models to media transparency.

He began the discussion with humor by stating, "The agency is dead. We are all dinosaurs; "then quickly admitted he was quoting a Wall Street Journal article from 1975. He focused the majority of his remarks on the benefits of an open architecture agency model and on his forthright view of media rebates.

As Bob Liodice asked about the effects of today's dramatic industry shifts, Michael Roth emphasized that agencies are continuing to play an important role for marketers. "Confusion," he said, "is good for us. If clients are looking to us to make sense out of a changing industry, we have to be able to respond. And that's where we add value and how we should be compensated."

Mr. Roth believes that IPG helps marketers best with an open architecture model that allows for a fully-integrated offering across various disciplines-- from creative to media to digital to experiential and beyond. He emphasizes that a program is brought together seamlessly for clients by using the best offerings and talent IPG has to offer. "Clients expect a complete value proposition. We must understand our clients' business and their objectives if we are to build trust and deliver what works for them." Interestingly, he added that if IPG does not have a specific resource needed to meet a client's need, they will use outside parties.

Michael Roth is also an advocate of pay for performance, provided that there can be agreement on how performance is measured. He admits that the media side of the business lends itself more easily to a pay-for-performance model as the measurement tools are better, and, as a result, savings are clearer. He added, "As an advertising agency, our strength in is our effectiveness."

Admitting that there is room for improvement when determining true effectiveness, Roth was also clear on a basic principle of agency compensation: "We make investments in people, tools and resources, and we must recoup our investments. We're not looking to price ourselves out of the market. We want to simply be paid fairly to help our clients."

Michael Roth left little doubt as to where he stands on media rebates and contractual transparency. The relationship between marketers and their agencies has come under fire recently given more open discussion that media agencies are receiving rebates from media sellers without the consent of their clients. Many argue that the spate of media agency reviews last year was largely driven a new interest in both cost efficiencies and broader issues of media transparency. In fact, the ANA has hired two companies, Ebiquity and K2 Intelligence, to examine the issue of media agency rebates. Findings are now scheduled for later this year.

Michael Roth made clear that the issue of rebates is not new to IPG. He explained that he stepped into his CEO role over a decade ago during the implementation of the Sarbanes-Oxley Act, which mandated strict reforms to improve financial disclosures from corporations and prevent accounting fraud. At that time, all IPG contractual relationships were reviewed and the issues of rebates throughout the world were discussed. His view was simple -- rebates represent a client's money, and it is their choice as to how they are allocated. "In those markets where there are rebates, our contracts are clear that those rebates belong to our clients," he said.

Michael Roth emphasized, "On the digital buying side, we are agents, not principals. We represent our clients in an agency relationship. We do not have a principal ownership in media. In this instance, we cannot be a principal and an agency at the same time. We act as agents when buying programmatic." (Principal-based buying is a practice in which the agency takes a principal position by buying media outright, and then sells that inventory to advertisers. This is generally offered on a non-disclosure basis between agency and advertiser, and is often seen as a means to increase agency revenue at a time of reduced fees.)

Michael I. Roth is Chairman and CEO of Interpublic (NYSE: IPG), one of the world's largest organizations of advertising and marketing services companies. Prior to serving in his current role, Roth was a member of the company's Board of Directors.

Since assuming leadership of Interpublic in 2005, Roth has righted the company's financial course and moved to make it an industry leader by defining new models that provide value to clients in a rapidly-changing media and marketing environment.

Prior to his current role, Roth was Chairman and CEO of The MONY Group Inc., a financial services holding company that provides a wide range of protection, asset accumulation and retail brokerage products and services through its member companies. Under Roth's leadership, The MONY Group diversified its business mix, broadened its distribution channels and enhanced its ability to compete in today's financial services marketplace.