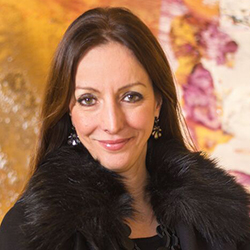 Lilian Tomovich
See the current issue
of The Internationalist magazine
Find out how to sponsor an issue of Trendsetters
Trendsetters: MGM RESORTS' Lilian Tomovich Works to Make Data Simple To Build Brand Loyalty
Ask Lilian Tomovich to name one of the biggest concerns in her multifaceted role as Chief Experience Officer and Chief Marketing Officer at MGM Resorts, and she'll tell you, "My challenge is making data simple."

At MGM Resorts International--a $9 billion global hospitality and entertainment company operating a portfolio of over 15 destination resorts brands, including Bellagio, Delano, Aria, MGM Grand, and Mandalay Bay, with over 250 food and beverage outlets, 350 retail outlets, plus the renowned Cirque du Soleil productions—data also translates directly to loyalty.

Lilian Tomovich acknowledges, "It's really easy to get data analysis paralysis. The velocity and speed of data coming to us as marketers today is unprecedented. We have to figure out a way to take small pieces of data, make meaningful insights, test and learn, and ultimately drive results for our business. It's as simple yet as difficult as that. At MGM we have incredibly loyal guests, and we harness all the data we know about them to drive meaningful engagement."

While the hospitality and entertainment business has been slow to adapt the technology evolution, Ms. Tomovich and her team are driving new innovation to the business-- from mobile guest check-in, to wristband payment devices for outdoor concerts, to enhanced technology for in-room services, and looking at the entire digital ecosystem to allow for a seamless booking and itinerary development system.

Without question, issues of technology are critical factors in marketing leadership today. She adds, "In so many ways, technology has made our lives easier and more interesting. It's made us smarter and engaged us in ways we never thought possible, but, at the same time, it's made our job as marketers really difficult. When I started my career, as long as you had good customer insights, and you followed the 5 P's, you could make great advertising and be a winner. Boy, have those days changed! Most days I feel like I'm a leader of data and analytics; marketing is no longer marketing as we once knew it."

Lilian Tomovich is responsible for all marketing functions for MGM Resorts with a focus on perfecting the guest experience through innovation, marketing technology and exceptional service. While she admits that consumer insights drive many of the best marketing initiatives, she emphasizes, "Human beings, people of all cultures, demographics and geographies want to feel special. Period. The more you can do to make them feel delighted, special, and important, the more they will love you back. If more brands could figure that out, there would be more success all around. At MGM Resorts we think about this every day."

In fact, she often discusses how "Technology is a great enabler, but sometimes old-fashioned service can't be beat." She adds, "I think we've over-rotated on technology as the be-all-and-end-all solution to customer or guest experience. That's why, at MGM, one-to-one relationships are still so critical. The human race is craving a more simple life again."

In fact, her dual title of Chief Experience Officer and Chief Marketing Officer is essentially one role which shapes both customer perceptions and the very definition of the MGM Resorts brand. "The way I look at it, the CXO is the modern equivalent of the traditional CMO title. In the world we live in, commoditization is a reality. What truly differentiates brands is the role they play in consumers' lives, and how brands deliver against it. At MGM Resorts, I believe we have a superior product offering compared to our competition but even more importantly, we differentiate ourselves with the experience we deliver our guests. So my team is responsible for all marketing functions but also obsessed with the guest experience."

According to Lilian Tomovich, "Delivering 'wow' guest experience moments, leveraging the power of guest data, implementing new technologies to enhance guest service and looking for better and smarter ways to drive guest engagement is what will drive the future of the hospitality and entertainment business."

Lilian Tomovich joined MGM Resorts in 2014 when she was tasked with how to enhance the overall guest experiences, and how to ensure that the portfolio of brands remained relevant and fresh. She embarked on a journey to develop a digital marketing platform, a customer centric approach around guest strategy, a richer one-to-one relationship management system and equally important a completely reimagined more centralized marketing function.

Prior to MGM, she served as Senior Vice President of Consumer Marketing for MasterCard (where she directed the iconic "Priceless" campaign), in addition to holding senior-level marketing positions with Loyalty One, the world's leading provider of loyalty marketing programs to global corporations.

She was named an Internationalist of the Year in early 2016 for her efforts at MGM Resorts.