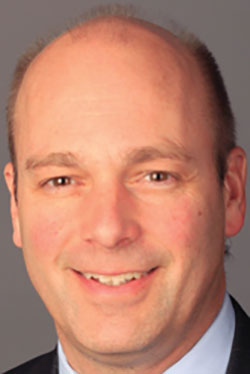 Hiscox' Russ Findlay
See the current issue
of The Internationalist magazine
Find out how to sponsor an issue of Trendsetters
---
If you have spotted a trend or given a recent presentation on a global issue, please tell use and don't forget a photo of yourself!
To submit to Trendsetters, contact me at: linkedin.com/in/deborah-malone-ab5897,
The Internationalist group on LinkedIn: https://www.linkedin.com/groups/2560753/or at Twitter--@DMaloneIntl
TRENDSETTERS:  Hiscox' Russ Findlay Looks at the Math and Magic of Marketing
The Internationalist Trendsetters is written by Deborah Malone, founder of The Internationalist.
 
Russ Findlay, Chief Marketing Officer of international specialist insurer Hiscox USA, believes that today's business world, with its constant stream of information and its terabytes of data, has fundamentally changed marketing, and essentially blurred what marketers once described as business-to-business and business-to-consumer disciplines.
And while he understands that a focus on data, numbers and performance marketing has permeated our profession and is directly tied to the future of the business, he also emphasizes that brand storytelling is "where the magic is" for all marketers.
He adds, "There's no question that you have to be good at numbers to be a strong 21st century marketer; however, one can't undervalue the necessity of great storytelling to unlock a brand's potential.  While we all must drive results and efficiencies, we also need to consider how we motivate people or meet unmet consumer needs.  Research shows that messages delivered as stories can be up to 22 times more memorable than just facts.  We are hard wired to fill in the blanks whenever we encounter a void.  Humans are always assessing facts and recognizing patterns, but stories, like missing pieces of a puzzle, help us create order and make sense of the world.  Highly effective brands understand that storytelling underscores why their products matter and how they relate to our lives."
Research shows that messages delivered as stories can be up to 22 times more memorable than just facts.
Russ Findlay has also recently taken on the role of Chair for ANA's Brand Management Committee which provides a forum for members on brand strategy and development, while advancing the discussion on "what great work looks like."  He will also host the upcoming ANA Brand Masters Conference with the theme of "Highly Effective Brands that Drive Results" on March 4 – 6 at the Hyatt Regency Scottsdale Resort & Spa at Gainey Ranch, Scottsdale, Arizona.
"I'm excited about Brand Masters because it features CMOs and marketing leaders from both B-to-B and B-to-C companies who will share their inspirational approaches to results-driven brand marketing.  I've always straddled B-to-B and B-to-C in my career—from my early days at Unilever where we sold through wholesalers and distributors to IHOP with its franchisees to Pepsi and its bottler network.  Even today at Hiscox, we provide professional liability, property and specialty insurance to businesses through wholesale brokers, yet we also sell insurance directly to small business owners.
Many young marketers often gravitate to well-known B-to-C companies with large media budgets.  However, I often tell them that branding in B-to-B is even more essential as the risks to the end purchaser are higher.  If you buy a $2 food item and don't like it, you're out $2.  However, if you buy the wrong piece of equipment or technology, the damage to your brand can be significant.  B-to-B is much higher stakes, but I'd argue that the competency is just as good if not better than B-to-C."
Some of the topics and speakers that Russ Findlay will be hosting at ANA Brand Masters Conference include:
HOW TO TRANSFORM YOUR COMPANY by Brad Hiranaga, Chief Brand Officer of General Mills
BRAND STORYTELLING IN THE AGE OF AI by Manos Spanos, SVP/CMO Brand Marketing - Yogurt BU at Danone North America
THE BOSTON BEER COMPANY LEARNS AND ADJUSTS TO DRIVE GROWTH  By Lesya Lysyj, Chief Marketing Officer of The Boston Beer Company
THE POWER OF PEOPLE IN A VIRTUAL WORLD by Victoria Keese Morrissey, Global Marketing & Brand Director for Caterpillar, Inc.
REVIVING HUMAN CONNECTION IN THE AGE OF DIGITAL DOMINATION by Vinoo Vijay, Chief Marketing Officer at H&R Block
MASTERCARD: "22 YEARS OF PRICELESS" by Raja Rajamannar, Chief Marketing & Communications Officer and President – Healthcare Business for Mastercard
ADAPT OR BE IGNORED by Janna Reddig, Director, Global Integrated Marketing Communications at Beam Suntory
MEME TO DREAM by Terence Reilly, Chief Marketing Officer of Crocs
 Russell Findlay is a 25-year marketing veteran. He joined Hiscox at the end of 2013, following marketing roles at Pepsico, Unilever, IHOP and Major League Soccer. No doubt, his extensive background contributed to this fresh approach for Hiscox and its ability to disrupt an entire global business category. 
In fact, Russ Findlay and Hiscox have been making headlines and winning awards for challenging insurance convention by bringing a new brand positioning to life with the memorable tagline Encourage Courage. The dramatic business-to-consumer campaign highlights entrepreneurial apprehension about successful growth, and features men and women who took chances to open and expand their own businesses. It is built on the insight that nothing great can happen without risk. According to Russ Findlay, "Insurance advertising talks about minimizing risk, not embracing it. Instead of fearing risk, we should fear not taking it." 
He was named an Internationalist of the Year 2014 for his work with Hiscox.