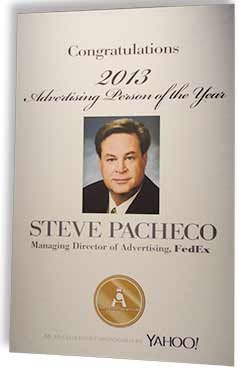 Steve Pacheco, Advertising Person of the Year
See the current issue of
The Internationalist magazine
Trendsetters: FedEx's Steve Pacheco, Advertising Person of the Year, Shares Secrets of Brand Success

According to Steve Pacheco, Managing Director of Advertising at FedEx, the old adage is true: "The only thing that's harder than getting into advertising is getting out of advertising." Not that Steve Pacheco has any plans to make a career change. "I have the greatest job in the world. I love what I do." He was speaking last week at the Dream Hotel in Downtown Manhattan as The ADVERTISING Club of New York honored him as 2013 Advertising Person of the Year for his significant contributions to the industry.

"His passion for marketing and keen eye for carefully crafted relationships set a standard for excellence in our industry. Steve understands the power of marketing to enrich people's lives and consistently develops highly effective campaigns to do just that," said Gina Grillo, AD Club President and CEO.

Each year, the organization recognizes those who have made outstanding contributions to the advertising industry. Established in 1959 by The American Advertising Federation, recipients are those active in furthering industry standards, creative excellence and responsibility in areas of social concern, and have included such marketers as John Hayes of American Express and Lisa Cochrane of Allstate.

No Advertising Person of the Year celebration is complete, however, without a traditional "roast and toast" by colleagues. Although a number of his key industry partners took the stage, including David Lubars, Chairman/Chief Creative Officer, BBDO North America; John Osborn, President and CEO, BBDO NY; and Laurie Tucker, SVP Corporate Marketing, it was clear that Steve Pacheco is one of the most beloved people in the industry. He's made a difference by dreaming big and inspiring outstanding work.

According to David Lubars, "Steve is awesome and totally roast-proof." However, he did his best by showing Steve's high school photo and explaining that even then he demonstrated the potential to be a dweeb, as slang US term for a nerdy, unstylish person who's awkward around others. David then admitted that he meant DWEEB, the acronym for Decision-maker Who Engenders Exceptional Branding.

BBDO's John Osborn talked about the first time he met the "Godfather of FedEx Advertising" a dozen years ago in Memphis when Steve walked up to him like a "Texas Tornado" and immediately put him on a plane to show how the company's 16,000 employees work every day. Ozzie recast the BBDO team in well-known FedEx commercials—from Super Bowl spots to the "Solutions That Matter" campaign as homage to Steve and the work. He also shared the story of an ad that only aired once—a Wizard of Oz rendition complete with a FedEx truck stopping the action in the middle of Munchkinland for a delivery of balloons—a key ingredient in keeping the high-pitched voices at maximum octave. (The ad was stopped by a cease and desist letter from a national helium association.)

FedEx's Laurie Tucker, had a list of "20 things you don't know about Steve," which included a start in standup comedy (which still comes in handy today), an extraordinary love of Memphis, and the fact that he's an ordained minister of the Universal Life Church and has conducted a wedding of a FedEx employee.

Perhaps the only fault his colleagues could find is that Steve Pacheco tweets too much.

Despite the banter, the roast showed how some old-fashioned values are still at the heart of a cutting-edge business—a solid, long-term partnership with an agency that keeps delivering for a client who encourages risk-taking and demands top-quality work. According to Steve Pacheco, "The team is the secret." And for him, it is the work that matters.


Steve Pacheco is Managing Director, Advertising at FedEx Corporation, a $44 billion, Fortune 100 global transportation, logistics and business services leader. He is responsible for all corporate-wide advertising as well as leveraging the extensive portfolio of sports and sponsorship properties through media and advertising. FedEx brands under his direction include FedEx Express, FedEx Ground, FedEx Freight and FedEx Office.

While at FedEx, Pacheco has produced more than a dozen Super Bowl spots. Work under Pacheco's direction has received numerous national and international awards and recognition including a Cannes Silver Lion in 2013, Prime Time EMMY for Outstanding TV Commercial 2006; Cannes Gold, Silver and Bronze Lions 2004-2009; AICP, New York Art Directors Club, EFFIE's 2002-2008 and numerous ADDY's, ANDY's, Clios, Obies and One Show Awards.

Most recently, Pacheco was awarded the Barton A. Cummings Gold Medal Award for 2013. He also was recognized with the prestigious FedEx Five Star award in 2006 honoring the employee whose accomplishments demonstrate innovation, collaboration, efficiency and profitability associated with results.

Prior to joining FedEx in 1997, Pacheco served as Advertising Director for International Paper, a $25 billion multi-national producer and marketer of paper, packaging, forest products, and building materials. Responsible for advertising, marketing communications, and sports and event sponsorship, he directed their involvement in the 1996 Summer Olympics in Atlanta.

His broad range of advertising experience includes past positions as Partner in Humphreys Ink, a Memphis based Advertising agency, Director of Advertising & Promotions at The Commercial Appeal, a Scripps Howard newspaper in Memphis. Before that he had a paper route.

In addition to his advertising and marketing background, Pacheco has given his time and talents to numerous community based efforts including:
Chairman: 2013 Memphis in May International Festival

Board Member: Memphis Arts Festival, Memphis in May

Marketing Chair: Memphis Arts Council & National Blues Foundation

Advisor: Metropolitan Interfaith Association, National Civil Rights Museum, Habitat for Humanity, and The Memphis Food Bank.

A native of Memphis, Pacheco earned a BFA Degree in Journalism from Memphis State University. He also holds the designation of Certified BBQ Judge from The Memphis in May International Festival's World Championship Barbecue Cooking Contest.

He lives, works, and plays in Memphis with his wife, an accomplished designer and artist, two teenage boys, and their extensive collection of wet towels.