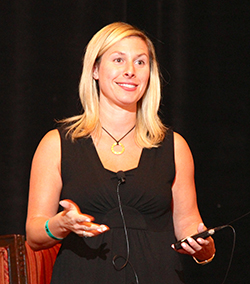 Michelle Klein
Damian Claassens
See the current issue of
The Internationalist magazine
Trendsetters: Diageo's Michelle Klein Discusses the Power of Community in an Age of Social Sharing

Michelle Klein, Vice President of Content, Digital, and Communications for Diageo's Smirnoff, has a reputation for innovation and for understanding global social trends. Her Smirnoff Nightlife Exchange Project, created with digital agency Profero, became a social phenomenon, while making headlines and winning awards, including a 2012 Grand Prix from The Internationalist for Innovative Digital Marketing Solutions. Not only did Smirnoff recruit a community of 10 million people across the globe to generate true social media scale, but it provided unique occasions and tools for consumers to locally re-invent nightlife experiences from around the globe through a co-creation program in 50 countries.

Now Michelle Klein is at it again. This time, she and Profero have created a new platform that bridges the digital and physical worlds.

In fact, Smirnoff Vodka can now make you the star of your own movie through the company's new Mixhibit digital app. Speaking at last month's ANA Masters of Marketing during The Internationalist panel entitled, "Marketers around the World Reshaping the Future of Marketing," Ms. Klein asserted that "Mixhibit will do for video what Instagram has done for photos."

Her collaborator, Damian Claassens, head of creative at Profero New York, who oversaw creation of the app, described Mixhibit as the first tool that allows people to easily "DVR their night" by pulling content from all their social networks, adding music and sharing a personal film in just a few clicks. (He also described this as "streamlining the documentation of the morning after the night before.") By selecting photos from Instagram or Facebook, Twitter updates, and Foursquare check-ins, Damian Claassens outlined how they could be set to the app's custom music tracks to create a one-of-a-kind video clip to rival the shorter or choppier uploads on other services like Viddy or Twitter's Vine.

Michelle Klein stated that Mixhibit "unlocks the power of community and provides a platform for people to have fun, be creative, and experience the brand in social occasions, to take the physical experience into a digital one." She is well aware that smartphones are becoming a more significant part of nightlife, and Smirnoff needs to be on the forefront of "cool." Interestingly, as Smirnoff grows in the developing world, smartphones are a primary means of connection and community.

The goal of Mixhibit is to be an "affinity driver" for Smirnoff's global community. Ms. Klein believes that creating something to add relevant value for a passionate fan base builds both brand love and brand preference.
Smirnoff is the world's leading premium spirit in the world by sales and volume with distribution in over 133 countries. A true internationalist, Michelle Klein has lived on four continents with roles that encompass all elements of the business—from public relations to agency account work to client-side marketing. She was named an Internationalist of the Year in 2012. Profero's Damian Claassens, a native of Australia, is also an internationalist. He has worked in his home country, as well as in London, Copenhagen and the U.S., for agencies large (Ogilvy & Mather, Leo Burnett) and small (Blueberry, Framfab). He was named an Internationalist Agency Innovator in 2013.