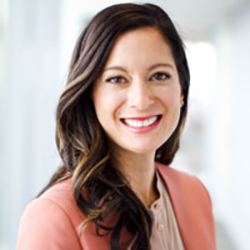 Kirsten Allegri Williams
See the current issue
of The Internationalist magazine
Find out how to sponsor an issue of Trendsetters
---
If you have spotted a trend or given a recent presentation on a global issue, please tell use and don't forget a photo of yourself!
To submit to Trendsetters, contact me at: linkedin.com/in/deborah-malone-ab5897,
The Internationalist group on LinkedIn: https://www.linkedin.com/groups/2560753/or at Twitter--@DMaloneIntl
TRENDSETTERS: Kirsten Allegri Williams, CMO of Episerver, says Brands will Win on Digital Differentiation
The Internationalist Trendsetters is written by Deborah Malone, founder of The Internationalist.

As Kirsten Allegri Williams surveys our new marketing world of increased screen time and work from home connectivity, she passionately believes that brands will now win entirely on digital differentiation. "At this moment in history and for the foreseeable future, a brand's digital presence makes up the entirety of how it reaches customers." 
 
Kirsten Allegri Williams has spent her career at the intersection of marketing and technology.  This July she became the Chief Marketing Officer of digital experience company Episerver™, after serving as CMO for SAP SuccessFactors, which provides technology solutions for Human Resources. Also while at SAP, she rebranded and relaunched the digital presence of Ariba, and lead partnerships with the United Nations to help businesses worldwide build sustainable supply chains.
 
She has joined Episerver™ during a pandemic that she sees as a turning point for every industry. "There is an undeniable shift toward digital-first which requires differentiated brand experiences and the need for CMOs, CIOs, and e-commerce leaders to rapidly adapt to changing conditions. Our customers need scalable technology with AI and actionable insights to solve real-world problems and create personalized engagement that is tied to business growth."
To hear more from Kirsten Allegri Williams, tune in to our Trendsetters podcast as she discusses how technology helps brands differentiate themselves in a digital-first world through content, storytelling, data analytics and the commerce experience. CLICK HERE.
In our conversation, we discuss the following:
The significance of the shift to "digital first."
How the role of CMO is changing.
Why marketers need to think differently now.

What does digital differentiation look like?

How buying decisions are changing.

Why speed matters more than ever.

Episerver™, a Gartner Magic Quadrant Leader for Digital Experience Platforms, is a powerful suite that seamlessly integrates content, commerce, personalization, search and analytics. The company serves over 5,000 customers representing more than 8,000 brands globally.

In addition to leading global marketing and communications for Episerver, Kirsten Allegri Williams is an advocate for women's equality and empowerment in the workplace. She is also a diversity champion as a Filipino American. Kirsten has been honored by many organizations including The Internationalist as a "Next 50" top marketer. She is a graduate of Santa Clara University with a B.S. in Political Science and B.A. in Music. She received her Master of Music degree from the Manhattan School of Music in classical voice and sustains a career as a critically acclaimed mezzo soprano.